Minaurum Releases Final Drill Results from Adelita Copper-Gold-Silver Projec
Highlights Include: 18.05 m grading 0.99% Copper with 44 g/t Silver, 0.57 g/t Gold
Minaurum Gold Inc. ("Minaurum") reports results from the final drill holes of Ocean Park Ventures' 2012 drill program on Minaurum's 100%-controlled Adelita Cu-Au-Ag Project in southern Sonora, Mexico. The 12,000-hectare project includes four identified copper-silver-gold skarn prospects and two porphyry-style prospects. The Adelita project lies 7 km east of Pan American Silver's Alamo Dorado silver mine, and approximately 60 km southeast of Frontera Copper's Piedras Verdes copper-porphyry mine.

Minaurum recovered the Adelita Property in January, 2013 as a result of Ocean Park's default (See Minaurum Press Release of 17 January, 2013). These holes were planned and executed by Ocean Park Resources in 2012, represent the last 3 holes drilled on the Cerro Grande skarn target and the initial 6-hole program at the Mezquital porphyry Cu-Mo prospect. Hole CGDD-12-15 is the best of the three recent skarn holes. It cut 3 mineralized zones, the best grading 0.99% copper with 44 g/t silver, 0.57 g/t gold over 18.05 metres, 42 metres from surface. Complete results are presented in Table 1 below.

CERRO GRANDE SKARN DRILLING

Minaurum drilled 8 holes at Cerro Grande in 2010, prior to the 2011-2012 Joint Venture with Ocean Park, which followed up with another 7 holes. Ocean Park's early 2012 program included a hole across the mineralized zone that intercepted 33.7 m of 0.91% Cu, 0.35 g/t Au and 46.6 g/t Ag; and down-dip holes that yielded intervals of 105.20 m averaging 1.03 % Cu, 0.45 g/t Au, and 36.4 g/t Ag; and 185.95 m averaging 0.56 % Cu, 0.16 g/t Au, and 13.5 g/t Ag.

Surface mapping and drilling on the Cerro Grande skarn target demonstrate that mineralization starts at the surface, continues to more than 300 meters depth, and ranges from 1 to 50 m thick. Metal values range up to 5% Cu, 300 g/t Ag, and 4 g/t Au. Ocean Park's drilling extended the known vertical extent of mineralization, but stayed entirely within the 200-m strike length established by Minaurum's 2010 program. The Cerro Grande skarn zone can be traced on the surface intermittently for more than 800 m. Additional mineralized zones lie along a 4-km long mineralization-favorable contact between metasedimentary rocks and an intrusive complex, of which Cerro Grande is the northernmost section.

"Minaurum is delighted to pick up the reins of the Adelita project after last year's drilling program demonstrated 300 metres of down-dip extent of copper-silver-gold skarn at Cerro Grande", said Darrell Rader, President and CEO of Minaurum Gold. "Although key targets remain to be tested in the Mezquital Cu-Mo porphyry area and other prospects, we will focus primarily on following the high-grade skarn zone along strike and down dip".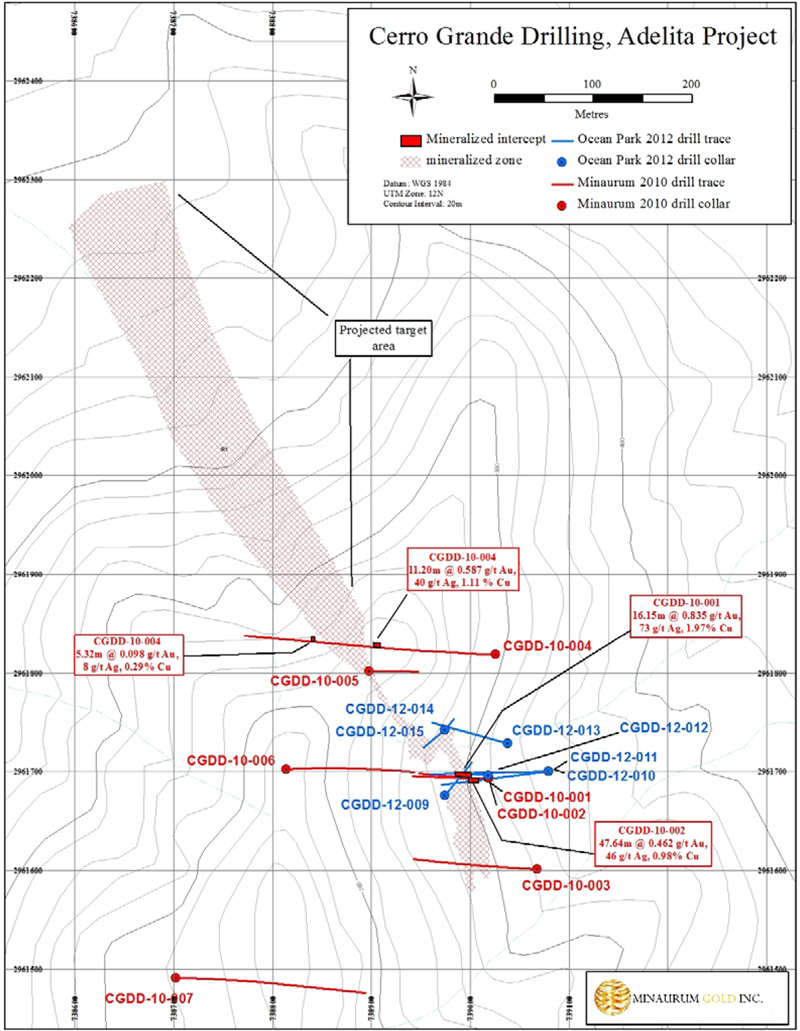 Drill map of Cerro Grande prospect. Note that Ocean Park's 2012 drilling (in blue) is concentrated along less than 100 m of strike length of mineralized zone. Please see previous Minaurum press releases for mineralization encountered in drilling.
Final Results of Core Drilling at Cerro Grande target:
Hole
Company
From (m)
To (m)
Interval (m)
Ag (g/t)
Au (g/t)
Cu %
CGDD-12-013
Ocean Park
32.95
40.15
7.20
26.4
0.417
0.79
49.25
50.95
1.70
10.7
0.229
0.94
53.90
55.65
1.75
71.2
0.836
1.3
CGDD-12-014
Ocean Park
25.80
29.15
3.35
3.5
0.021
0.18
36.10
43.00
6.90
2.9
0.028
0.18
CGDD-12-015
Ocean Park
5.35
10.20
4.85
13.8
0.157
0.32
28.25
32.40
4.15
4.4
0.1
0.18
42.70
60.75
18.05
44.4
0.572
0.99
ADDITIONAL TARGETS IDENTIFIED AT ADELITA

In addition to Cerro Grande, 2 skarn targets identified by mapping and geochemical sampling around the contact of the Mezquital porphyry complex remain to be tested. From Cerro Grande, the West Cerro Grande target lies 250 m to the west, and the La Plomosa area lies about 5 km north, on the north side of Mezquital. In addition, the Andalucia target lies 3.5 km south of Cerro Grande, at the contact of a metasedimentary/metavolcanic package with an intrusive complex.

The Las Trancas prospect, about 4 km southwest of Cerro Grande, presents sericite- and hematite-altered metasedimentary and metavolcanic rocks intruded by a quartz-eye porphyry stock that may be related to a porphyry Cu-Mo system. Minera Kennecott conducted a 5-hole program on the property in 2005; one of the Kennecott holes intersected 16.3 m grading 0.25% Cu, 5.7 g/t Ag, 0.07 g/t Au, and 0.6% Zn on the south side of the porphyry intrusion. A conspicuous Au-Mo soil geochemical anomaly on the north side of the intrusion and has not been drilled to date. The ground covering the Las Trancas prospect was added to the Adelita project in 2012.

Drill targets will be developed on these prospects in 2013.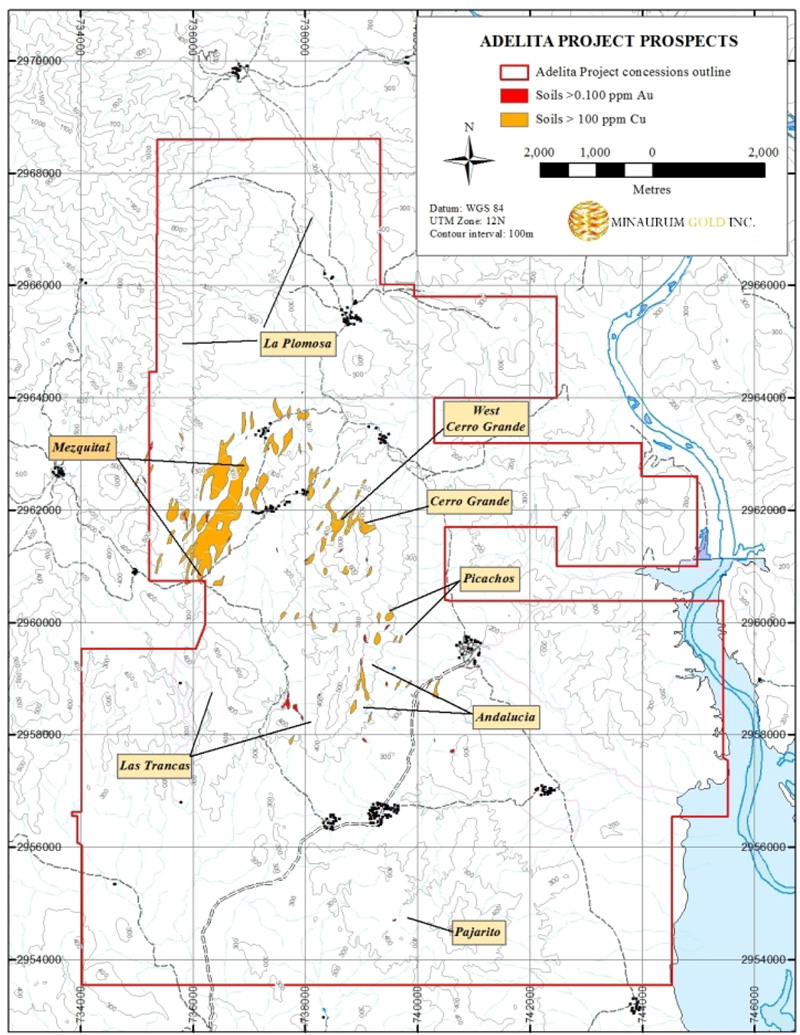 Map of Adelita project showing outline of concessions and locations of prospect areas described in this report.
MEZQUITAL PORPHYRY TARGET DRILLING

Ocean Park drilled 6 core holes totaling 1,924.65 m on the Mezquital porphyry Cu-Mo prospect. Mezquital is marked by NE-SW trending soil and rock Cu and Mo geochemical anomalies covering an area 2 km by 400 m that is underlain by an intrusive complex displaying zoned alteration. Ocean Park's program returned anomalous molybdenum values but did not test the strongest geochemical anomalies.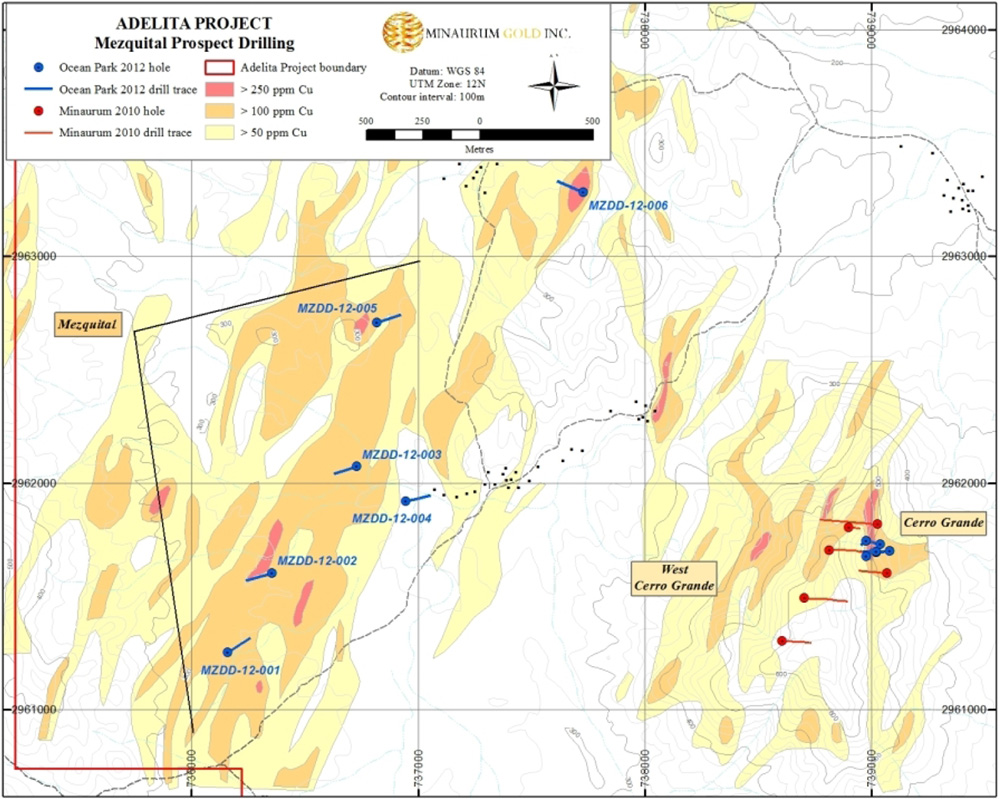 Map of Mezquital - Cerro Grande areas, showing locations of drill collars relative to copper-in-soil anomalies. Note that nearly all of the 2012 drilling at Mezquital was oriented subparallel to NNE trend of contoured copper anomalies.
ABOUT MINAURUM

Minaurum Gold is primarily focused on its projects in the Guerrero Gold Belt, Mexico. Surface work continues at the Vuelcos del Destino, El Pórfido, and Jackie projects. For more information, please visit our website at www.minaurum.com and our You Tube Minaurum Video Channel.

Qualified Person: Mr. Stephen R Maynard, M.S., C.P.G., is a qualified person as defined in National Instrument 43-101 and supervised the preparation of the technical information in this release.

ON BEHALF OF THE BOARD

"Darrell A. Rader"

Darrell A. Rader
President and CEO

For more information, please contact:
Sunny Pannu -- Investor Relations Manager
(778) 330 0994 or via email at info@minaurum.com

The TSX Venture Exchange does not accept responsibility for the adequacy or accuracy of this news release.
---
Cautionary Note Regarding Forward Looking Statements: Certain disclosure in this release, including statements regarding the drilling results and geological interpretations and exploration plans for the Adelita project constitute forward-looking information. In making the forward-looking statements in this release, Minaurum has applied certain factors and assumptions that are based on Minaurum' s current beliefs as well as assumptions made by and information currently available to Minaurum. Although Minaurum considers these assumptions to be reasonable based on information currently available to it, they may prove to be incorrect, and the forward-looking statements in this release are subject to numerous risks, uncertainties and other factors that may cause future results to differ materially from those expressed or implied in such forward-looking statements. Readers are cautioned not to place undue reliance on forward-looking statements. Minaurum does not intend, and expressly disclaims any intention or obligation to, update or revise any forward-looking statements whether as a result of new information, future events or otherwise, except as required by law.