Discoverer of the Guerrero Gold Belt
With over 40 years of exploration experience as a specialist in skarn and porphyry systems in North America, David M. Jones set out to push geological boundaries while exploring in frontier jurisdictions in Mexico. He was able to achieve this by his own private endeavours and co-founding Minaurum, serving as a director and key member of its technical advisory committee.
Dave's exploration successes was driven by the principle that a project had to be 'Big', with multiple deposits or prospects over a broad area unified by common geological characteristics, and that 'Systematic' processes that formed the gold deposits have to be inherent to the project's geological setting.
In 1994, Teck Corp. appointed Dave as a senior geologist and project manager for the company's Nukay gold project in Guerrero, Mexico. Over five years and $15M, Dave discovered 4 million ounces of gold in what eventually became to be known as the Los Filos gold deposit (now owned by Equinox Gold Corp.). A recognized skarn expert, he created the geological model responsible for multiple discoveries in what is now known as the 20 Moz 'Guerrero Gold Belt' or 'GGB'.
Post Teck, Dave became a 'skarn expert' to several companies within the Gold Belt. He worked for Peñoles at their El Bermejal gold deposit and Grupo Mexico at their Morelos Sur gold project. He served as Chief Technical Advisor for Torex Gold Resources Inc. at its inception and played a significant role in championing Torex's 'South of the River target', which became the 3 Moz Media Luna gold deposit. He also served as a director of Cayden Resources through their acquisition by Agnico Eagle. More recently, David was responsible for identifying the exploration target that became Gold Resource Corp's Switchback vein system at the El Aguila project.
His devotion to the GGB led to the exploration of the Biricu and Vuelcos del Destino projects and expanding Minaurum's portfolio. Biricú's proximity and geological resemblance to the Los Filos-Bermejal-Nukay gold mines in the GGB led to a 9,587 m drill program returning 26.98 m grading 1.07 g/t gold and 0.29 g/t silver, including a zone of 6.85 m grading 2.78 g/t gold and 0.92 g/t silver (Hole GV2014-011); 1.1 m grading 1.1 g/t gold (Hole GV2014-00); 1.19 m grading 1.1 g/t gold (Hole GV2015-015); 1.68 m grading 0.83 g/t gold and 3.10 g/t silver (Hole GV2014 009). Located adjacently, the Vuelcos del Destino is the largest single untested gold skarn target intrusive complex measuring 12 sq km, see below intrusion sample comparison to Vuelcos outcrop. Please see the project pages Biricu and Vuelcos for further information: https://minaurum.com/projects/interactive-map/
We highly encourage the mining community and those interested in learning more about David's significant exploration contributions in Mexico to view his video presentations on the Guerrero Gold Belt (Click Here for Playlist) and at the Mexico Mining Discoveries Conference.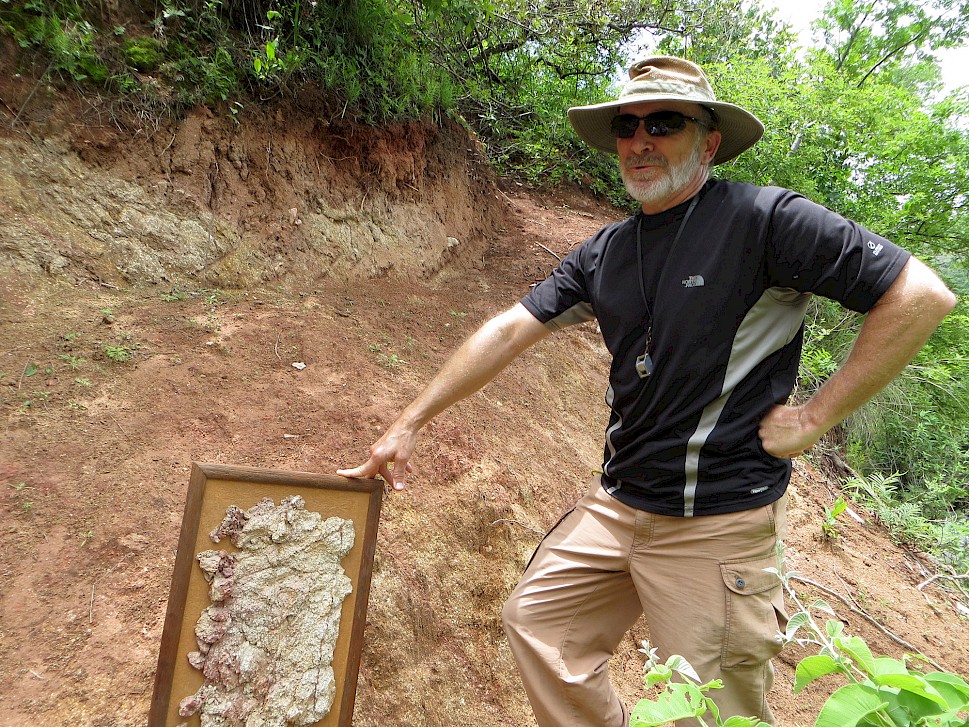 David M. Jones showcasing a Los Filos mineralized intrusion sample to Vuelcos surface intrusion outcrop indicating similar mineralization