Multiple Copper-Gold-Silver Skarn Zones Discovered at Adelita Project
Minaurum Gold Inc. ("Minaurum") is pleased to report that Ocean Park Ventures Corp ("Ocean Park") has successfully made multiple new skarn discoveries at the Adelita project. (see Ocean Park News Release dated September 20, 2012) These include:
The Andalucia skarn zone has returned surface samples grading up to 4.19% copper, 9.22 g/t gold and 162 g/t silver, defining a drill-ready copper-gold-silver target.
The West Cerro Grande skarn zone has returned surface samples grading up to 2.23% copper, 0.62 g/t gold and 209 g/t silver.
Geophysical results from the discovery area suggest a possible strike of the Cerro Grande mineralized skarn trend in excess of 2.5 kilometres.
The two new copper-gold-silver mineralized skarns are shown on the map below, along with highlighted surface samples from all areas. Five areas containing copper-gold-silver mineralized skarn have now been identified across the Adelita property. These are:
Cerro Grande, where drill hole CGDD-12-009 returned 105.2 metres of 1.03% copper, 0.43 g/t gold and 36.3 g/t silver from a copper-gold-silver mineralized skarn with 800 metres of mapped surface strike and drill results indicating at least 300 metres of vertical depth (see Ocean Park news releases of May 3rd and May 30th, 2012).
Andalucia, located 2.5 kilometres to the south of Ocean Park's drilling at Cerro Grande. The zone occurs within the same mineralized structural trend and consists of similar style copper-gold-silver mineralization. The zone has thus far been exposed in a series of trenches across 70 metres of strike and remains open to extension in all directions.
West Cerro Grande, which hosts a number of new skarn showings, located 200 -- 700 metres west of the main Cerro Grande discovery. Surface mineralization has been identified across more than a kilometre of strike. Copper-gold-silver mineralization is associated with high angle structures.
La Plomosa, north of the Mezquital porphyry target, copper-gold-silver mineralized skarn samples have been historically collected across a four square kilometre area.
Las Trancas, to the south of the Mezquital porphyry target where results include an 89 sample soil survey completed by Minaurum in 2010 that identified a two square kilometre extension of the copper, gold, silver and molybdenum-in-soil anomaly that has been drilled by Ocean Park at the Mezquital porphyry target.
Further trenching and diamond drilling will be required to define the zone geometry and strike extent of mineralization at Andalucia. The West Cerro Grande, La Plomosa and Las Trancas targets are all early stage and will require follow up work including mapping and trenching to define the sampled skarn occurrences.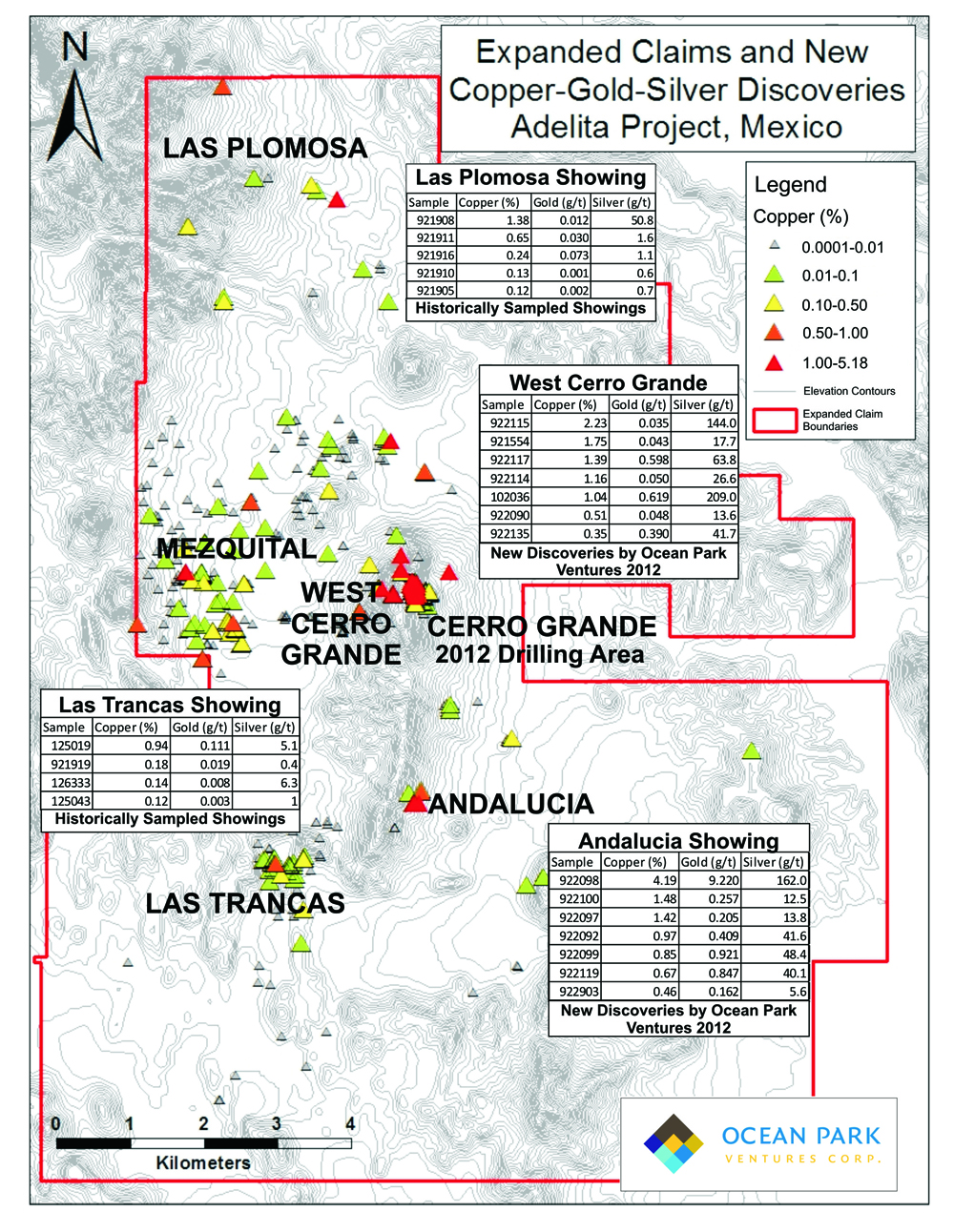 Figure 1: Map of Expanded claim boundaries of Adelita property and location of new copper-gold-silver occurrences. Assay results summarized by location.

Ocean Park can earn a 51% interest in the Adelita project by incurring cumulative expenditures of US$1,425,000, Ocean Park issuing common shares and cash payments to Minaurum by December 31, 2012. Ocean Park can earn up to a 75% interest in the Adelita Project by completing and funding a feasibility study. (see Minaurum News Release dated February 15, 2011).

Minaurum Gold is focused on gold- and silver-dominant projects in Mexico that have "district-scale" exploration potential. Minaurum is currently focusing its exploration efforts in the 15 million-ounce Guerrero Gold Belt. Drilling was recently completed at the Corazonada silver-zinc skarn project in Morelos state, assays are pending. Drill permitting is ongoing at both Vuelcos del Destino and the Santa Marta Gold-Copper project. For more information, please visit our website at www.minaurum.com and our You Tube Minaurum Video Channel.

ON BEHALF OF THE BOARD

"Darrell A. Rader"

Darrell A. Rader
President and CEO

For more information, please contact:
Sunny Pannu -- Investor Relations Manager
(778) 330 0994 or via email at info@minaurum.com
The TSX Venture Exchange does not accept responsibility for the adequacy or accuracy of this news release.
---
1500 - 409 Granville St.
Vancouver, BC V6C 1T2
Telephone 778 330-0994
www.minaurum.com
info@minaurum.com

Forward Looking Statement: Some of the statements contained in this press release are forward-looking statements. Forward-looking statements are not historical facts and are subject to a number of risks and uncertainties beyond the Company's control, including, but not exclusively, statements regarding potential mineralization, exploration results, completion of work program and studies, and future plans and objectives of the Company. Resource exploration, development and operations are highly speculative, characterized by a number of significant risks, which even a combination of careful evaluation, experience and knowledge may not eliminate, including, among other things, unprofitable efforts resulting not only from the failure to discover mineral resources but from finding mineral deposits which, though present, are insufficient in quantity and quality to return a profit from production.